---
Aftermath
---
---
Welcome to the Age of American Disenlightenment — Posted Friday 24 February 2017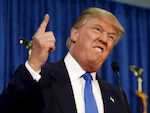 You will recall the Age of Enlightenment, the period from the 1700s to the early 1800s in which mankind's views of physical reality went from the gods, demons, magicians, sorcerers, superstitions, powers and principalities of religious belief to a more logical and rational view of the world based on science and mathematics. But with the rise of Donald Trump and the unlimited power of today's Republican Party, America has now entered what I call the Age of Disenlightenment.
It began innocently enough with the "untruthiness" of the Bush 43 administration, an emotional, fear-based and gut-level notion of truth based on what conservatives want to believe is true, but is not. Somehow, it all actually worked. Bush, Cheney and their minions got most Americans to believe that the nineteen 9/11 attackers (15 of whom were Saudis) sent out by Osama bin Laden from Afghanistan were somehow or other on a mission instead from Iraq, whose president Saddam Hussein had stockpiled nuclear and biochemical weapons that he was about to unleash upon America. The resulting bogus war of Bush and Cheney resulted in 4,500 U.S. troop deaths, the deaths of hundreds of thousands of innocent Iraqi civilians, the disgusting Abu Ghraib debacle, the expenditure of several trillions of dollars and the enduring enmity of billions of people around the world against America.
It's only a decade later, and we now have President Donald J. Trump, who's promising greater atrocities. Do you miss Bush yet? You will.
Reading like a manifesto straight out of George Orwell's Ministry of Love in the novel
1984
, the Trump administration is on an all-out crusade to utterly destroy America as a thinking, rational entity and replace it with a pariah state that embraces "alternative facts," innuendo, "fake news" and outright lies, all predicated on the now-proven theory that Americans are not only gullible and credulous, but incomprehensibly stupid and corrupt as well. The Ministry of Love did not just want people to parrot "2 + 2 = 5." They wanted people to actually
believe
it. By comparison, Americans don't have to be coerced to believe in illogical nonsense—they openly welcome it.
One of my favorite websites is
Religion Dispatches
, a liberal Christian site whose articles regularly try to inform faithful, semi-faithful and agnostic readers of the dangers of authoritarian fundamentalism. Today's article brilliantly describes what I've known for quite a while now—that Christian conservatives are far more susceptible to lies, fake news and alternative facts than liberals. One case in point:
When one fake news creator was interviewed, he explained "We've tried to do similar things to liberals. It just has never worked, it never takes off. You'll get debunked within the first two minutes, and the whole thing just kind of fizzles out."
The article then describes what I believe is the reason why Republicans are far more credulous toward fake news than Democrats—the religious roots of the Christian Right in the Republican Party. Spanning from the days of the Scopes Trial in 1925 to the renewal and expansion of fundamentalist Christian thought in the 1970s and 1980s, the likes of Pat Robertson (the Christian Coalition), Tim LaHaye (the
Left Behind
books on End Times eschatology), Jerry Falwell (the Moral Majority) and James Dobson (Focus on the Family) gave rise to a wave of religiously-motivated political conservatism culminating in the likes of Bill O'Reilly, Sean Hannity, Rush Limbaugh and Lou Dobbs. But the primary motivator behind everything is fear, distrust and hatred: fear and hatred of minorities, fear of independent women, fear of material loss and fear of the future (it's truly amazing how the Right Wing is pushing gold ownership these days).
Before the Enlightenment, life was brutish, nasty and short for the vast majority of people, but they could always fall back on religion to explain why their corrupt, authoritarian rulers were allowed to live in luxury while the poor kept themselves warm and contented by burning the occasional rat in the fireplace. While people are far better off in America today, one reason why I see intellectual regression taking place is that fundamentalist Christians have been waiting 2,000 years now for Christ to return, and his continuing absence is increasing their fear that perhaps the liberals were right all along—he ain't coming back, and probably wouldn't want to even if he could. But being neurologically wired the way they are (or just because they're stupid and ignorant as hell), they can't abandon their cherished conservative religious beliefs, so instead they're doubling down on the nonsense.
The
Religion Dispatches
article also discusses something called the "historical-critical" method of Bible scholarship (a topic near and dear to my heart), which takes a rational and scientific approach to the study of biblical times, lives and events rather than a strictly traditional, devotional approach. I don't see it as pure coincidence that Dr. Albert Schweitzer's influential 1906 book
The Quest of the Historical Jesus
was met almost immediately with a resurgence in evangelistic fundamentalist Christian activity in America, though relatively few people bothered to even read the book. John Thomas Scopes may have won a moral victory at the 1925 "Monkey Trial," but with 50% of Americans rejecting evolution today (along with a lot of other proven scientific theories), the fundamentalists are back on top.
Fake news
and its progeny are growing at an alarming rate today. Trump merely read the fundamentalist tea leaves and took advantage of the situation. The real culprits in this wave of disenlightenment are Americans. I'm truly scared of what's going to happen now.
---
That's Gratitude for You — Posted Thursday, 23 February 2017
Noted evolutionary biologist and University of Minnesota biology professor
PZ Myers
posted an interesting
article
on his website today on how creationists have managed to expunge a particular taint of Seventh-Day Adventism from their belief system, with noted creationist Ken Ham of
Answers in Genesis
leading the way. Ham and his followers recently completed the
Ark Encounter
, a full-sized replica of the Noachian ark built at a cost exceeding $170 million, paid for in part by the state of Kentucky for required highway improvements, tourism promotion, parking facilities and other public enhancements.
One thing that Myers neglected to note, however, is that the Seventh-Day Adventist Church grew out of an End Times prophecy made by self-professed Bible expert and former Massachusetts farmer
William Miller
, who famously predicted the return ("advent") of Jesus Christ on March 21, 1843. When that prophecy failed, he told his followers (known as "Millerites," who numbered at least 50,000) that he'd neglected to take into account the fact that there is no "0 B.C.", and so his calculations were off by a year. When March 21, 1844 came around with still no Jesus, Miller and his followers were
crushed
. Many had quit their jobs and given money and belongings away, believing they'd be whisked off to Heaven on that glorious spring day. Most of the followers fell away in disillusionment, disgust or embarrassment, but quite a few of the faithful hung on, believing that Miller had somehow been right all along! Out of that remnant of faithful Millerites sprung the Seventh-Day Adventist Church, which today numbers some 19 million members. Ben Carson, President Trump's insanely fundamentalist and conservative nominee for the Department of Housing and Urban Development, is himself a proud Seventh-Day Adventist.
Today there are about 2.2 billion people in the world claiming to be Christians, so one might think that Seventh-Day Adventism is just a drop in the bucket by comparison. But there are also just 15 million Jews worldwide, and nobody is going to claim that Judaism hasn't profoundly affected the world.
By my own estimate, there are no more than 10 million scientists of all academic stripes in the world today. You'd think with all the gifts that scientists have given the world they'd have at least as much political clout as the Jews and Seventh-Day Adventists, but world opinion seems to be spinning away from scientists. And with upwards of an expected annual 500,000 visitors to the Ark Encounter alone (and the prestige and revenue it will generate), you'd think that scientists might want to build something similar. True, the Large Hadron Collider in Switzerland cost $10 billion, but it's not exactly a popular tourist destination, doesn't raise money, and most Americans have either never heard of it, have no idea what it does, or could care less.
Winston Churchill famously noted that "Science should be on tap, not on top," while Albert Einstein and J. Robert Oppenheimer, the brilliant physicist and director of the Manhattan Project, were viscerally hated by J. Edgar Hoover, the FBI and the CIA. Indeed, Oppenheimer was publicly humiliated by the House Committee on Un-American Activities and stripped of his security clearances, while the U.S. government compiled an enemies list that included Einstein and many other scientists, including the noted physicist David Bohm, who was run out of the country. At the same time, Billy Graham achieved god-like status in the 1950s and was accorded unprecedented access to U.S. presidents, the Congress and the military. That's gratitude for you.
It has now been ten years since I fell away from the Christian faith. Dismayed and disgusted by the uncountable irreconcilable contradictions and unrelenting nonsense in the Bible, along with the sanctimonious promotion of willful ignorance, the unconscionable glorification of the military, and the hypocritical worship of wealth and materialism by America's Christians, I just couldn't take it anymore. But what's even worse today, in my opinion, is the increasing rejection of science by people of faith here in America, coupled with their increasing devotion to superstitious bullshit like astrology, homeopathy and faith healing. In view of all the things science has given them, they should fucking know better.
And last but not least, let us not forget that in 2016 American Christians made a president out of political whoremonger Donald J. Trump, who received the support of an astounding
81% of white evangelical voters
(more than George W. Bush, John McCain and Mitt Romney).
---
#Resist — Posted Tuesday, 21 February 2017
I recently attended one of the
#resist
meetings that are popping up all over here in Pasadena. I found it to be rather disorganized and with a lot of preaching to the choir, but also with much enthusiasm to get something going. Hey, I'm 100% for these efforts, and I plan to get more involved, but in view of the far more organized (but failed) Occupy Movement of years past, I'm not feeling a lot of optimism.
Conservative New York Times contributor
David Brooks
is not my favorite writer, but his opinion piece today speaks volumes. As usual, Brooks appeals to the "growth" meme, bemoaning Amerika's still-lackadaisical economy and jobs picture, as if wealth, eternal population growth and entrepreneurial economic expansion is God's mission for the planet. Brooks titles his piece "The Century is Broken" but still backs off from encouraging any active resistance to the Trump presidency, which he thinks will fall on its own. While it's very possible that Trump will quit, be impeached or assassinated, that still leaves a hoard of corrupt, evangelical Republicans to carry out every one of his policies, including the destruction of women's and minority rights, the environment, affordable health care, science and the Constitutional right of freedom
from
religion. We can also expect more fear-based wars of profit conducted by Amerika's military corporatocracy. It's very doubtful that with Trump gone, any of his Republican cronies are going to follow suit. They'll cry crocodile tears over Trump's insane ranting and raving, saying they never wanted him in the first place, but hey, it was all part of God's plan anyway, so we're going for it. I'm inclined to believe that Trump's election was all part of a cynical Republican plan to grab unlimited power, which they have.
Hopeful progressives say "Just wait for 2018, or maybe 2020 and the census results," but with the GOP having locked up the country through gerrymandered redistricting, I don't see many changes.
Will Amerika's people ever wake up? Is the 21st century—and Amerika—really broken for good?
---
That's Confidence — Posted Friday, 17 February 2017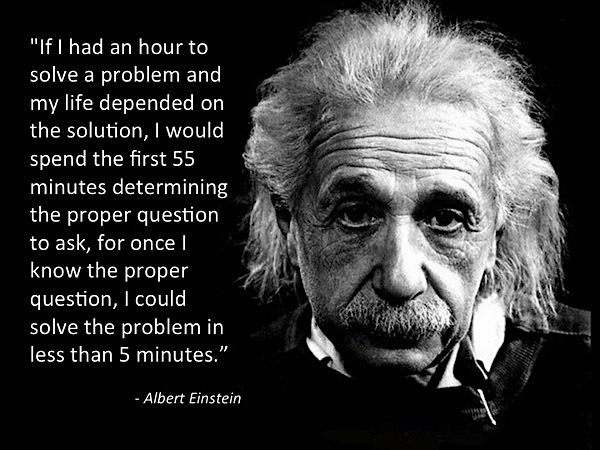 Einstein's remark reminded me of how often I would struggle on a final exam problem, only to suddenly realize after much fretting that I hadn't read the problem correctly. The answer then came a lot quicker, but usually not in just five minutes—after all, I was no Einstein.
---
Is Trump Really Out to Get You? — Posted Thursday, 16 February 2017
If you have nothing to hide, then you have nothing to fear from us. — US/UK Surveillance Programs

Give me six lines written by the hand of the most honest man, and I will find something in them to have him hanged. — Cardinal Richelieu (1641)

Just because you're paranoid doesn't mean they're not out to get you. — Joseph Heller, Catch-22

Paranoia strikes deep
Into your life it will creep
It starts when you're always afraid
Step out of line, the men come and take you away. — Buffalo Springfield, For What It's Worth
This morning a dear family member directed me to a couple of sites about securing my computer against the government and other malicious entities. You may want to look into them for yourself:
FreeCodeCamp 1
FreeCodeCamp 2
I'm already using several of the recommendations for locking out my email and computer but, as FreeCodeCamp notes, nothing is impervious: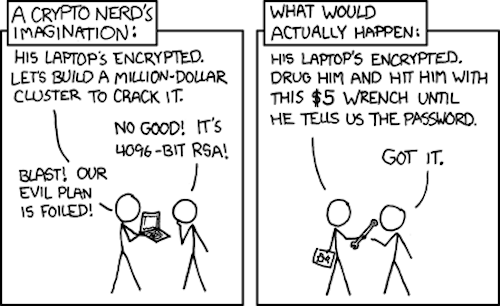 The RSA encryption algorithm is pretty secure (see my
post
dated 7 February 2013 for a description of the computer program** and an example of its use), but when it comes to cracking code nothing works better than a quick trip to Guantánamo (or other black site) and a cheap wrench or power tool.
** But my son prefers Pascal:
---
Susskind Speaks Out — Posted Tuesday, 14 February 2017
Leonard Susskind
is the Felix Bloch distinguished professor of theoretical physics at Stanford University and my favorite lecturer of all time. His many YouTube lecture series on quantum mechanics, relativity, information theory, statistical mechanics, thermodynamics and string theory have been viewed millions of times. To date Susskind has been silent on the dangers of the Trump presidency, but he has now broken his silence. I urge you to watch Susskind's brief announcement below, especially since it comes on the heels of today's stunning resignation of Trump's National Security Advisor,
Michael Flynn
:
---
"Don't Think—Feel" — Posted Tuesday, 14 February 2017
The percentage of Americans today who take astrology seriously is larger than the percentage of people who did so in the early Middle Ages, when leading church theologians—Saint Augustine, for example—gave excellent reasons for considering astrology nonsense. We pride ourselves on our advanced scientific technology, yet public education in science has sunk so low that one-fourth of Americans and 55 percent of teenagers, not to mention a recent president of the nation and his first lady, believe in astrology! — Martin Gardner
There's an old Arab saying that, granted one wish, people would choose to be rich, young, good-looking or talented, but that being smarter, better educated or wiser is nowhere on the list. It seems that most people are pleased with the way they think and what they believe in, and that they see no need to change any of that.
I believe the greatest disappointment of my declining years has been the realization that the vast majority of people cannot think rationally. Of course, we're all convinced that we have brilliant minds and that our beliefs and opinions are grounded in perfect reason, but looking at the state of our country today (not to say the world) you know that simply cannot be true.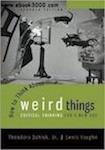 The above quote is by Martin Gardner, the late long-time mathematical puzzles contributor to
Scientific American
, in his foreward to the book
How to Think About Weird Things: Critical Thinking for a New Age
by Theodore Schick, philosophy professor at Pennsylvania's Muhlenberg College, and his colleague Lewis Vaughn. Now in its 7th edition (2014), the book has been hailed by the likes of Carl Sagan and is regularly used as a textbook at many universities today. (The "recent president" that Gardner refers to is of course Ronald Reagan, and this tends to date the book somewhat, but the latest edition includes discussions on climate change, the vaccination/autism flap, prosperity gospel and other current issues.)
The authors cite numerous examples that lead to uncritical thinking when strange beliefs are involved, including
You had an extraordinary personal experience (especially a religious experience).
You embrace the idea that anything is possible—including weird things.
You have an especially strong personal feeling that the claim is true or false.
You have made a leap of faith that compels you to accept the claim.
You unquestionably accept the word of an authority figure that the claim is true.
You believe in inner, mystical ways of knowing that support the claim.
You know that no one has ever disproved the claim ("Russell's teapot").
You have a "gut feeling" that the claim is true or false ("That dog don't hunt").
You believe that any claim is true if you sincerely know in your heart it is true.
You believe that all scientific evidence is only opinion, not fact.
While I cannot praise the book too highly, its message of how to engage in clear, rational thinking based on empirical evidence is lost on the majority of Americans who will never read it.
I have a middle-aged neighbor whose car still sports a fading "God said it, I believe it, that settles it" bumper sticker (although he did finally remove his McCain-Palin sticker). Having talked with him for years, I know he isn't knowledgeable about Levantine biblical archaeology or Jewish/Christian textual analysis (he doesn't even read the Bible), having somehow gleaned all he needs to know from God-knows-where. He doesn't know anything about science either (and could care less), but he's absolutely adamant in his conservative Republican beliefs and does not want to be told otherwise (and of course, like Trump he believes climate change is a hoax). Similarly, I have an elderly family member whose proud motto is "I only have one rule—you don't get between me and my God." Comfortably wealthy, he operated a sweatshop for many years and detests minorities, especially blacks, yet considers himself to be a devout, undoubtedly saved Christian. He doesn't believe in climate change, either, but he does believe in magnet therapy and dowsing.
I believe one of the reasons the recent presidential election hit progressives so hard is the fact that their arguments and efforts—based primarily on reason, fact and scientific evidence—are useless against an ignorant, non-thinking political bloc whose motives and beliefs are now solidly aligned with Christian religious dogma (especially prosperity gospel). After all, "I just know in my heart that it's true!" trumps reason every time. Why bother with critical thinking when one has snappy slogans, banal one-liners and authoritarian doctrines that disengage the brain and allow one's fears and emotions to run their lives?
"Don't think—feel," indeed.
We can easily forgive a child who is afraid of the dark; the real tragedy of life is when men are afraid of the light. — Plato
---
Resist — Posted Thursday, 9 February 2017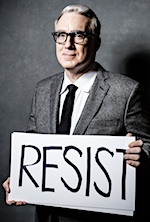 Never give nuclear weapons to a guy with multiple personalities.
— Keith Olbermann
Many of you will remember Keith Olbermann, who hosted the sports segment here at KTLA in Southern California many years ago before a long stint with MSNBC as the host of
Countdown with Keith Olbermann
. He was let go in 2011, following a long-standing dispute with network executives, but his brand of fiery liberal political commentary endeared him to many (myself included), although we all knew his ego and brashness would catch up with him.
At 57, Olbermann is still around, though much muted because no brand-name network will touch him in these anachronistic times. A recent
Washington Post
article provides an update on his activities, and it indicates that he has changed very little over the ensuing six years since his
Countdown
show on MSNBC was canceled. Immediately following the 2016 presidential election I stopped watching MSNBC altogether, along with CNN and even the far more balanced PBS
Newshour
program, simply because I couldn't take the tragedy that was unfolding before me.
I did regret tuning out of the
Rachel Maddow Show
, since I considered her to be the most intelligent and informed member of the cable news rat race, but it was apparent that the network bigwigs had gotten to her as well. Old hands were unceremoniously dismissed, while moderate commentators started showing up on the network, even outright conservatives such as Niccole Wallace, the former Director of Communications in the George W. Bush administration. Months before the 2016 election I could see that MSNBC was grooming Wallace as the heir apparent to someone (I thought it might be Maddow herself), and watching Chris Matthews and Maddow forced to grovel before Wallace's inane political commentary (invariably sprinkled with homespun family and Christian anecdotes) turned my stomach (fortunately, the possibility that a real-life
All About Eve
event was about to unfold did not occur). I once emailed Maddow, advising that she and her partner Susan move to Scandinavia or other more accommodating liberal country, as I could see the insidious direction America was going. I received a curt reply, but she apparently chose to ignore my sage advice. Such is the moral price one pays when their annual salary approaches the seven-figure range.
In spite of Olbermann's heroic
Resist
effort, I myself have pretty much given up all hope. The world under Trump is in much more danger than it was in January 1933 when Hitler ascended to power in Germany (he didn't have thousands of nuclear warheads at his beck and call), not to mention the fact that Hitler, though evil, was, unlike Trump, at least sane at the time.
Disclaimer
: I actually rooted for Trump during the primaries, as I confidently believed that either Sanders or Clinton would mop the floor with him in the general election. Alas, I grossly underestimated the stupidity and insanity of the American people.
---
Science Wars — Posted Thursday, 9 February 2017

Steven Goldman has a B.S. in physics and a PhD in philosophy from Boston University. His 24-part Great Courses lecture series
Science Wars
deals more with the philosophy of science than science itself, so much of the material goes over my head. But the series was an eye-opener for me, as it explained a problem I've had for years regarding conservative distain for science ("It's just a theory") and its seemingly contradictory acceptance of it (computers, smart phones, GPS, etc.).
Goldman explains that this hate/love association with science goes back to the days of Socrates and his student Plato, when new concepts grounded in deductive reasoning and mathematics clashed with those of Sophists like Protagoras and Gorgias, who held that deductive reasoning was nothing more than a system of opinions and subjective beliefs, and that "practical" experience was a better guide to the understanding of reality, even if irrational means and beliefs necessitated wholly subjective approaches to the world. In this sense, Goldman implies that today's liberals and conservatives spring from the mindsets of the Socratists and the Sophists—it's an "age-old" problem, after all, one that many recent
studies
investigating the brain differences of liberals and conservatives have confirmed.
Conservatives accept the science behind computers, cell phones and GPS because they appear to work, and are therefore "practical" technologies. Nevertheless, electrodynamics, quantum mechanics, general relativity and GPS remain "theories," but only when they openly contradict or oppose cherished subjective beliefs, notably religion. For example, the website
Conservapedia
(a right-wing reaction to Wikipedia founded by the late Phyllis Schlafly and her son Andrew) rejects relativity theory simply because it contradicts the notion of "action at a distance," which they believe God uses on a routine basic to effect instantaneous change. In contrast. science today accepts the notion of
fields
to convey the relationship between cause and effect, and fields can effect change at most at the speed of light.
Consequently, one sees that technology to conservatives is fine provided it's merely "practical" and isn't threatening to their core beliefs, so that things like Facebook, Twitter, fried Twinkies and
American Idol
are just dandy. Best of all, they don't require any real thought to use and enjoy.
Last year I read Shawn Otto's 2016 book
The War on Science
, which discusses these thoughts far more eloquently than I ever could. Otto notes that Jefferson once said that an informed public—unquestionably the best safeguard of democracy—can be trusted to oversee its own government. But along with the unprecedented advent of high technology and the benefits it represents has arisen a backlash of blinkard, neoconfederate stupidity and ignorance that threatens to turn technology against us. Otto's 500-page book ends with a chapter on "battle plans," outlining efforts that might be taken to avert disaster. But the book came out just prior to Donald Trump's presidential victory, and I really don't see how Otto's recommendations are relevant anymore.
I plan to attend the
March for Science
in April, and hopefully I'll hear some plans that will actually accomplish change. But I'm not hopeful—in fact, I detest the word "hope" now because it's nothing but a kind of prayer which, as you should be aware by now, doesn't accomplish anything. As for me—I advocate open revolution, something along the lines of what the French did in 1789.
---
March for Science — Posted Wednesday, 8 February 2017
Part of the problem is people with degrees \(\ldots\) there are too many of them.
— James Delingpole, UK Conservative writer
Following my semi-annual dental cleaning this morning, I discovered, much to my disappointment and dismay, that my dentist—whom I've known and admired for over 25 years—happily attended Donald Trump's January inaugural event in Washington. I knew Dr. M was a Republican, though in prior years we used to chat at length about a host of environmental and social issues that we both agreed upon. But \(\ldots\)
Trump
?!
Still, Dr. M is a top-notch clinician and overall nice guy, with a couple of kids fresh out of college and a successful side business in the dental implant field, and I never criticized his occasional forays into conservative-land. But this was too much, and I earnestly thought about changing dentists, as I have now become radicalized against all manner of Republican bullshit, nice guys or no.
To get an idea of the extreme violence that Trump and the GOP represent today, you might want to read UK writer Jay Griffiths' article at
Aeon
, which outlines the existential problems progressives are currently up against. Bottom line: it's
fascism
, pure and simple, but not the kind Orwell warned us about, or the
inverted totalitarianism
that progressive writer
Chris Hedges
bemoans. It is instead a kind of post-fact, post-truth, dystopian conservative wet dream in which the acquisition of money and wealth override every other consideration. Worse, it has coupled itself to the burgeoning
prosperity gospel
that this country has aligned itself with, which has conveniently found a way around the cognitive dissonance created by the anti-materialism teachings of Jesus and the love of money. Jesus of Nazareth has thus been morphed into Donald of New York, and both want you to be wealthy, you see, although the latter is more concerned with the here-and-now rather than the pie-in-the-sky nonsense that modern American Christianity hawks to the stupid and simple-minded. And even worse is the denial of scientific fact and the hatred of science itself that Republican authoritarians espouse, since reality, fact and truth stand in their way of absolute dominance.
Thinking I could escape some of the neoconfederate insanity that my Google News home page landed every morning on my computer, some months ago I switched to the UK
Guardian
. But whaddaya know, Britain is experiencing exactly the same problems we're having, except that the Liberal and Conservative parties here are called the Labour and Tory parties over there.
So what to do? I plan to attend the upcoming
March for Science
, a nationwide protest of the Trump administration's anti-science, anti-fact agenda, to be held in Washington on Earth Day, April 22. If you can't make it to that city, there are satellite marches planned for many other cities and towns across the country. It may be a good alternative to buying a sniper scope and a rifle. (I said
may be
.)
---
Signs of Insanity — Posted Tuesday, 7 February 2017
My self-imposed hiatus over the November election results led indirectly to a number of papers, two of which I posted on my main website. The first,
A Child's Guide to Spinors
, describes just what the hell spinors are and why they're important in physics, while the other,
Levi-Civita Rhymes with Lolita
, was inspired by my umpteenth reading of Nabokov's 1955 classic. The silly titles of both papers should tip you off to my current state of mind, while the subject matter reveals my preoccupation with high school- and undergraduate-level math and physics topics. I'm now working on another forgettable paper entitled "How the Simulation Hypothesis Resolves the Theodicy Problem," which will mark my first entry into the realm of religion and logic (oxymorons?) I'm also working on a book whose title hasn't been settled on.
The book project has been long delayed, mainly because I have a number of friends who've written technical books that weren't well received either by publishers or readers, and this has had a constipating effect on my motivation. In addition, I just turned 68, and the fear that the remainder of my life will be expended under the rule of the insane Republican Party has imposed its own negative effects on my psyche.
---
Three Months — Posted Tuesday, 7 February 2017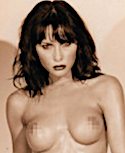 Yes, America, that's your classy new First Lady, Melania Trump.
When Donald Trump won the presidential election I went into a major funk, vowing to disappear from the Internet, never to be heard from again. Although I received some three dozen emails from readers begging me not to bow out (not exactly an overwhelming tide of support, I know), my mind was made up.
With the exception of a few PBS and science/nature programs, I haven't watched any television since that dark November 8 day. I read many new books and re-read many old ones, binged on dozens of audio books and Great Courses video and audio lectures, tended my garden, wrote a few new articles and started writing a book, but my mind remained distraught. I simply cannot snap out of it—to me, America is being systematically destroyed by an ignorant, arrogant neofascist, one that
Sinclair Lewis
and many others warned us against (not to mention the lessons of the Nazi experience).
I had bought a large bottle of Jack Daniels for an old friend in recognition of his 70th birthday (I've known him over 60 years, and we still play basketball), but on election night I was motivated to crack it open and down half of it (not my custom at all), and so had to buy him another. Upset over this state of affairs, my equally distraught older son then suggested that I start a new website, disguised behind a new link on my old one, but one that wouldn't expose young math and science students to the
degrading filth
and
debauchery
that Donald Trump, his slut wife and corrupt administration represent. I said I'd try it, so here we are.
As I am now living in a post-truth, post-fact country of, for (and led by) dangerous authoritarian neanderthals, I have indeed given up any hope (at least for now) that reason and rationality will return. But I'll keep posting, at least until our glorious new
Führer
abolishes the First Amendment and burns all us libruls at the stake.
---